ПЕРСОНАЖИ ФИЗИОЛОГА И ХУДОЖЕСТВЕННОЕ ОФОРМЛЕНИЕ ДРЕВНЕРУССКИХ ПЕВЧЕСКИХ КНИГ
Нина Борисовна Захарьина

Санкт-Петербургская государственная консерватория им. Н. А. Римского-Корсакова
Ключевые слова:
древнерусские певческие книги; книжная миниатюра; аллегории; Физиолог; попевка.
Аннотация
Среди множества древнерусских певческих рукописей, украшенных изображениями трав и животных, выделяются три кодекса, содержащие рисунки с персонажами Физиолога. Созданные в Москве (вероятно на Печатном дворе), эти рукописи служили образцами для создания певческих книг в конце XVI – начале XVII вв. Они содержат Стихирарь «дьячее око» (энциклопедию церковного певца) — важнейшую певческую книгу этого времени. В этих рукописях встречаются изображения персонажей Физиолога: лев и другие животные расположены в нижней части рисунка, различные птицы — в верхней; вся композиция организована древом старопечатного стиля. Последний элемент встречается в «книгописном подлиннике», изображения животных характерны именно для этих рукописей. Это аллегория тварного мира: земля в нижней части и небо в верхней. Аллегорическое значение миниатюр в этих рукописях перекликается с композиторской техникой, использующей элементы музыкального языка, попевки, в экзегетической функции. Изобретенная в самом конце XV в., эта техника в XVI столетии активно применялась в песнопениях в честь вновь канонизированных русских святых. Стихирари «дьячее око» содержат наиболее полный для своего времени свод таких песнопений. И рисунки, и техника композиции отражают общеевропейский взгляд на музыкальное искусство, его язык и символику. Изображение льва напоминает геральдические символы, долго хранившиеся в культуре и после того времени, когда они были актуальны. Попевка соответствует современному музыкально-риторическому понятию фигуры. Миниатюры данных рукописей повлияли на книжный декор, особенно на оформление певческих книг.
Литература
Aleksandrina A.V. Pevcheskie rukopisnye knigi 15–19 vv. iz biblioteki Troitse-Sergievoi lavry: Istoriko-knigovedcheskii analiz (Chant Hand-written Books in 15th–19th cc. from the Trinity Lavra of St. Sergius Library). PhD Thesis. Vol. 2. Moscow, 2014. 468 p. (in Russian)
Anisimova T. V. Manuscripts of Moscow Scribers Basov Brothers (80s of 16th – early 17th c.). Ot Srednevekov'ia k Novomu vremeni (From Middle Ages to New Time). Moscow, Indrik Publ., 2006, pp. 587–608. (in Russian)
Belova O. V. Slavianskii bestiarii: Slovar' nazvanii i simvoliki (The Slavic Bestiary. Dictionary of Titles and Symbolism). Moscow, Indrik Publ., 2001. 318 p. (in Russian)
Burmeister J. Musica poetica. Rostochii, S. Myliander Publ., 1606. Available at: https://digital.staatsbibliothek-berlin.de/werkansicht?PPN=PPN660778130&PHYSID=PHYS_0007&DMDID=DMDLOG_0001 (accessed: 20.07.2020).
Egorova M. S.; Kruchinina A. N.; Shvets T. V. Sluzhba na perenesenie moshchei prepodobnogo Sergiia Radonezhskogo: Issledovanie, tekst i rospev (Service to the Moving of St. Sergius of Radonezh Hallows: Research, Text, and Chant). Moscow, Saint Petersburg, Al'ians-Arkheo Publ., 2014. (in Russian)
Kagan M. D.; Ponyrko N. V.; Rozhdestvenskaia M. V. Description of Manuscrips of Monk Eufrosin. Trudy otdela drevnerusskoi literatury instituta russkoi literatury Rossiiskoi akademii nauk (Proceedings of the Department of Old Russian Literature of Russian Literature Institute (Pushkin House) in the USSR Academy of Science). Vol. 35. Leningrad, Nauka Publ., 1980, pp. 3−300. (in Russian)
Khristofor. Kliuch znamennoi, 1604 (Key of Neumes, 1604). Moscow, Muzyka Publ., 1983, 293 p. (in Russian)
Kondrashkova L. V. Troestrochie kak fenomen russkogo mnogogolosiia kontsa 16 – pervoi poloviny 18 veka (Three-Part Poliphony as Phenomenon of Russian Multipart Music in the Late 16th — First Half of 18th Сentury). PhD Thesis. Moscow, 2018. 277 p. (in Russian)
Kruchinina A. N. Popevka of Znameny Chant in Russian Music Theory of 17th Century. Pevcheskoe nasledie Drevnei Rusi: Istoriia, teoriia, estetika (Chant Heritage of Old Russia: History, Theory, Esthetics). Saint Petersburg, Ut Publ., 2002, pp. 46−150. (in Russian)
Likhacheva O. P. Lion — Fierce Beast. Trudy otdela drevnerusskoi literatury instituta russkoi literatury Rossiiskoi akademii nauk (Proceedings of the Department of Old Russian Literature of Russian Literature Institute (Pushkin House) in the Russian Academy of Sciences). Saint Petersburg, Dmitrii Bulanin Publ., 1993, pp. 129‒137. (in Russian)
Markelov G. V. Stroganovy's Book Podlinnik 1604. Trudy otdela drevnerusskoi literatury instituta russkoi literatury Rossiiskoi akademii nauk (Proceedings of the Department of Old Russian Literature of Russian Literature Institute (Pushkin House) in the Russian Academy of Sciences). Vol. 54. Saint Petersburg, Dmitrii Bulanin Publ., 2003, pp. 684–699. (in Russian)
Panchenko F. V. The Late 16th c. Sticherarion from S. G. Sgroganov's collection. Materialy i soobshcheniia po fondam Otdela rukopisei BAN (Materials and Messages for the Funds of the Department of Manuscripts of Library of the Russian Academy of Sciences). Saint Petersburg, Library of the Russian Academy of Sciences Publ., 2006, pp. 206–305. (in Russian)
Parfent'ev N. P.; Sherstobitova E. S. Autor's Art of Book Ornament of Znamenshchik Fedor Basov (Last Quarter of 16th — First Half of 17th cc.). Vestnik Uzhno-Ural'skogo gosudarstvennogo universiteta. Seriia: Sotsial'no-gumanitarnye nauki (Bulletin of the South Ural State University. Series: Social Sciences and the Humanities), 2018, vol. 18, no. 4, pp. 80–89. (in Russian)
Pastoureau M. Une histoire symbolique du Moyen Âge occidental. Paris, Le Seuil Publ., 2004. 240 p. (in French)
Ramazanova N. V. Moskovskoe tsarstvo v tserkovno-pevcheskom iskusstve 16‒17 vekov (Moscow Kingdom in Church Chant Art in the 16th‒17th centuries). Saint Petersburg, Dmitrii Bulanin Publ., 2004. 468 p. (in Russian)
Rogov A. I. Muzykal'naia estetika Rossii 11–18 vekov (Musical Esthetics of Russia in the 11th–18th Centuries). Moscow, Muzyka Publ., 1973. 245 p. (in Russian)
Rozanova N. V. Monuments of Miniatures of Moscow Circle in the First Half of the 16th Century. Drevnerusskoe iskusstvo. Khudozhestvennaia kul'tura Moskvy i prilezhashchikh k nei kniazhestv 14‒16 vv. (Old Russian Art. Art Culture of Moscow and Neighbouring Realms in 14th‒16th cc.). Moscow, Nauka Publ., 1970, pp. 258‒274. (in Russian)
Rozov N. N. On Peculiarities of Book Décor of Liturgical and Chant Hand-written Books. Trudy otdela drevnerusskoi literatury instituta russkoi literatury Rossiiskoi akademii nauk (Proceedings of the Department of Ancient Russian Literature of Russian Literature Institute (Pushkin House) in the USSR Academy of Sciences). Vol. 38. Leningrad, Nauka Publ., 1985, pp. 424–433. (in Russian)
Schidlovsky N. (ed.). Sticherarium palaeoslavicum petropolitanum: Codex Palaeoslavicus № 34.7.6. Bibliotecae Academiae Scientiaraumm Rossicae phototypice depictus. Hauniae, Reitzel Publ., 2000, Pars pricipalis. IX, [407, 5] p. (in Latin)
Semiachko S. A.; Panchenko F. V. Prepodobnyi Dimitrii Prilutskii: Zhitie i sluzhby (St. Dimitry of Prilutsk: Life and Services). Vologda, Spaso-Prilutskii Dimitriev Monastery Publ., 2018. 384 p. (in Russian)
Svirin A.N. Iskusstvo knigi Drevnei Rusi (Ancient Russian Book Art). Moscow, Iskusstvo Publ., 1964. 300 p. (in Russian)
Uspenskii B. A. Letter "Э" in Old Russian Chant Texts and in Copies of Biblical Book Exodus. Voprosy iazykoznaniia (Questions of Philology), 2013, no. 6, pp. 79–114. (in Russian)
Vaneeva E. I. (ed.). Fiziolog (Physiologus). Saint Petersburg, Nauka Publ., 2002. 167 p. (in Russian)
Vasilik (Khoshchenko) M. V. Sticherarion "d'iachee oko": Peculiarities of Calendar and Genres. Muzykal'noe nasledie Rossii: Istoki i traditsii (Musical Heritage of Russia: Sources and Traditions). Saint Petersburg, Saint Petersburg State Conservatory named after N. A. Rimsky-Korsakov Publ., 2001, pp. 55−79. (in Russian)
Vereshchagin E. M. (ed.). Il'ina kniga: Drevneishii slavianskii bogosluzhebnyi sbornik (Ilia's Book: Ancient Slavonic Liturgical Collection). Moscow, Indrik Publ., 2006. 975 p. (in Russian)
Zakhar'ina N. B. On the Musical Composition of the Canon to the Dormition of Theotokos the One Adorned by Divine Glory. Vestnik Pravoslavnogo Sviato-Tikhonovskogo gumanitarnogo universiteta. Seriia V: Voprosy istorii i teorii khristianskogo iskusstva (St. Tikhon's University Review. Series V: Problems of History and Theory of Christian Art), 2019, no. 38, pp. 9–22. DOI: 10.15382/sturV202038.9-22 (in Russian)
Zakharova O. Ritorika i zapadnoevropeiskaia muzyka 17 — pervoi poloviny 18 veka: printsipy, priemy (Rhetorics and Western-European Music in 17th — First Half of 18th Century: Principle, Techniques). Moscow, Muzyka Publ., 1983. 77 p. (in Russian)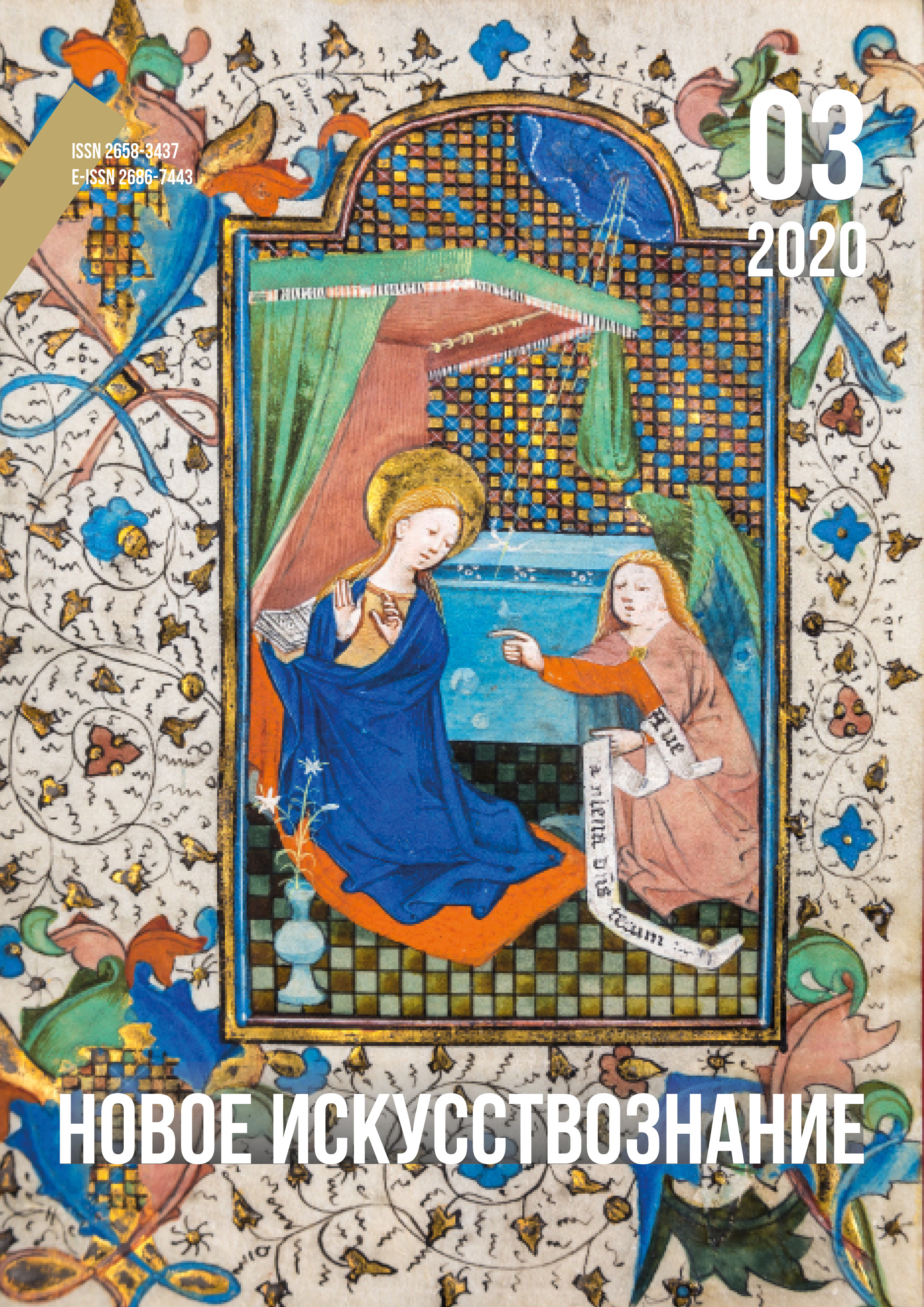 Раздел
ИСКУССТВО РУССКОЙ КНИГИ ПОЗДНЕГО СРЕДНЕВЕКОВЬЯ И РАННЕГО НОВОГО ВРЕМЕНИ